The Salvation Army's Spring Thrifty Thursdays
This Spring, The Salvation Army San Diego worked with local social media influencers to share their thrift store finds. 100% of the proceeds made at The Salvation Army Thrift Stores directly fund our Adult Rehabilitation Center, a free, six-month residential rehab center in San Diego. So, not only are you recycling and reusing by shopping second hand at our stores, you are also giving someone else the chance to renew their lives. Recycle. Reuse. Renew.
We shopped with six different San Diego Fashion Bloggers all over the county and watched as they discovered unique items and turned them into fashionable outfits. They were able to find stylish, high-quality pieces without hurting their wallets.
Here are some of our favorite #SAThriftyThursday finds!
Camila Pontes
Our first influencer, Camila Pontes, found many cute outfits. She talked to us about upcoming trends and how to dress for the season. To see her entire thrift haul and read more about her experience, click here.
Elda Montoya
Elda was on the hunt for some good bric-a-brac to decorate her new home. Not only did she find these pretty crystal goblets, she found a couch that complimented her home!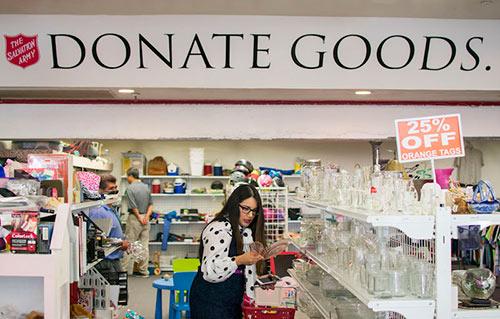 Hannah Victor
Hannah came in with a mission to find some casual sweaters for spring and she succeeded! We had fun looking for and creating every day outfits
.
Karen Olea
Karen is a thrift store fanatic and is a huge fan of our Point Loma Store. She found cute outfits and taught us the secret to finding good pieces: time! Being patient and working through the store section by section helps you find the hidden gems. To read more about her thrifty tips and finds click here.
Kimberly Anne
Kimberly is all about the patterns! She loves to experiment with colors and different sizes, pointing out that oversized clothing can always be cinched at the waist with a belt or tied in a knot! Check out more of her styling here.
Femi Olafioye-Omogbehin
Femi is a professional stylist and picked out so many fun outfits! She is also an advocate for Black Female Representation in the media, and we were so excited to have her share her passion and time with us! Read more about Femi's personal styling and Black Female Representation Program here. ​​​​​​​